Мусульманская ненависть разрывает Ближний Восток: результат 1400-летней вражды между Шиитами и Суннитами… и теперь грозит поглотить весь Ирак, а потом и весь мир.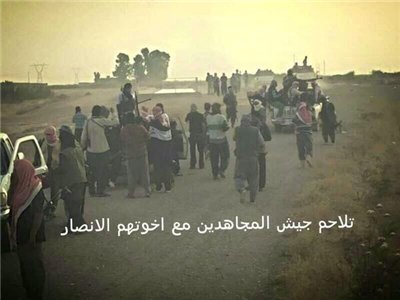 Сегодня Аятолла Систа заявил: "согласно древнему пророчеству записанному в старых книгах, в этом году истекает 1400- летний срок и  начинаются события согласно этому пророчеству. После 1400-летней вражды между Шиитами и Суннитами,эта вражда поглотит весь Ближний Восток, а потом перекинется на весь мир и утопит его в крови .
Если смотреть на события в Ираке, то видно, что пророчество начало сбываться."
В центре ужасающего кризиса в Ираке является многовековая ненависть между двумя мусульманскими идеологиями: суннитов и шиитов.
Смертоносная борьба за власть между этими двумя соперничающими версиями одной и той же веры, вспыхнул с ужасающей силой.
В этот раз эта борьба приобретает небывалый размах и за ней с трепетом наблюдают на всем Ближнем Востоке, где эскалация традиционной суннитской / шииты конфликта угрожает правительствам и национальным границами.
[fvplayer src='http://kalevholland.planet.ee//wp-content/uploads/2014/06/ISIL-Death-Cult-Kills-Three-Syrian-Truck-Drivers-in-Iraq-after-Failing-the-Are-you-Sunni-Test1.mp4′ width=640 height=360]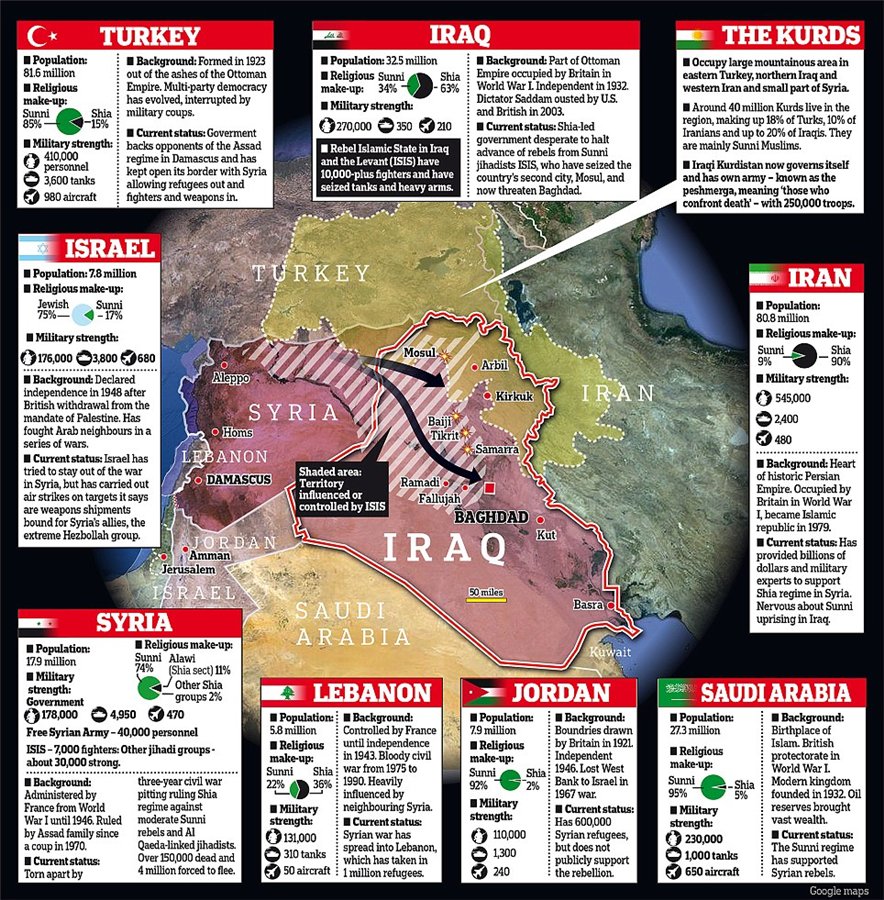 Битва за Ирак – саудовская война против Иран.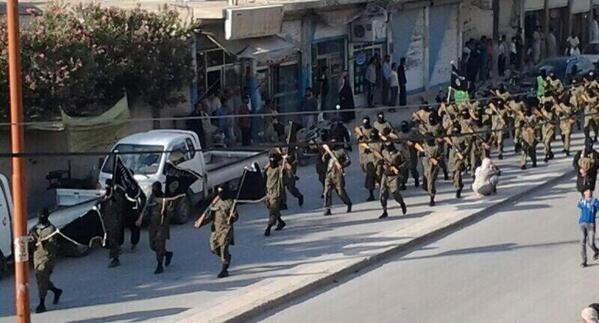 "Бойтесь того, чего вы желаете" – таков должен быть совет Вашингтона Саудовской Аравии и другим государствам Залива, поддерживающим джихадистов в их войне против режима Башара Асада в Дамаске. Это предупреждение звучит как никогда актуально именно сегодня, когда кровожадные боевики ISIS стремительно продвигаются через северо-западный Ирак, вынуждая к бегству сотни тысяч своих суннитских единоверцев и создавая панику в шиитском центре вокруг Багдада, чье население знает, что милости от ISIS ждать не стоит – в случае, если моторизованные колонны джихадистов не будут остановлены.
Подобный провал Нури аль-Малики был самой сладкой мечтой короля Саудовской Аравии Абдаллы. Для него Малики – не более, чем иранская марионетка. Абдалла отказывается отправить своего посла в Багдад. Вместо этого он подстрекает своих коллег в клубе деспотий Совета Кооперации Стран Персидского Залива (GCC) – занять подобную тупиковую позицию. Все эти страны уязвимы для ударов Аль-Каиды, но смотря сквозь пальцы на то, как их граждане финансируют радикальные группы вроде Джабхат ан-Нусра в Сирии.
Абдалла находится на отдыхе в Марокко. Он пока никак себя не проявил в связи с иракским кризисом. Возможно, каникулы будут прерваны. Нет никаких сомнений в том, что 90-летний монарх осознал – после того, как его политика в Сирии провалилась, благодаря отпору, организованному Ираном, события в Ираке предоставляют ему новый шанс.
Подобная перспектива ломает многие предсказания и сконфузит многих предсказателей. В последние недели пресса была наполнена сообщениями о начинающемся – хотя и неохотном – сближении GCC с Ираном. Свидетельствами этому стали визит эмира Кувейта в Тегеран, и посещение Тегерана несколькими торговыми делегациями GCC. Был и прямо противоположный тренд – КСА впервые публично продемонстрировало китайские баллистические ракеты, которые могут долететь до Тегерана, а в ОАЭ ввели всеобщую воинскую повинность.
Преимущество, если этот термин может быть употреблен в подобном контексте, бойни в Ираке в том, что она вносит ясность. Есть конечно соперничающие племена и враждующие нации, но доминирующее напряжение создается противоречиями между суннитским (большинством) и шиитским (меньшинством) исламом. Этот феномен, характерный для всего региона, доведен до абсурда ISIS, который, в дополнение к прочему, рассматривает свои действия в Ираке против Малики и как удар по Асаду.
ISIS – безжалостная машина убийств, доводящая суннитское презрение к шиитам до логического, и кровавого экстремума. Саудовский монарх, в отличие от его коронованных собратьев, весьма осторожен, и не допускает прямых религиозных оскорблений., но его ненависть к шиитам проявилась в комментариях, опубликованных wikileaks: "отрубите голову змее (теократическому режиму в Тегеране)".
Несмотря на попытки многих, в том числе и в Вашингтоне, списать его со счета, король Абдалла крепко вцепился в жизнь. Не далее как 4 июня он встречался с шейхом Мухаммедом бин Зайядом, наследным принцем Абу Даби. Брат Мухаммеда недавно перенес инсульт, и теперь Мухаммед является фактическим правителем ОАЭ. Никто не знает, о чем говорили Абдалла и бин Зайяд. Предположительно – о выборах в Египте и триумфе генерала Сиси. Сиси рассматривается и в Эр-Рияде, и в Абу-Даби в качестве "стабилизирующей силы". На настоящий момент Абдулла, Зайяд и Сиси – три главных лидера арабского мира. Дальнейшая судьба арабских государств зависит от этих трех лидеров.
Для тех, кто сконфужен разделами в арабском мире и находит что выражение "враг моего врага мой друг" имеет ограниченную ценность, стоит напомнить, что в грубом приближении суннитский /шиитский раздел совпадает с границами персидского и арабского миров. В геополитическом смысле Ирак – связующее звено – с шиитским большинством, которое по происхождению своему является арабами. Есть еще одно и совершенно запутывающее все измерение, которое исторически является стержнем саудовской политики – поддержка исламских радикалов за рубежом и их сдерживание на территории королевства. Отсюда – поддержка бин Ладена, пока он воевал в Афганистане, джихадистов в Чечне, Боснии и Сирии.
Когда в 2011 начался мятеж против Асада – вместе с ростом озабоченности Эр-Рияда в связи с иранской ядерной программой – саудовская разведка вновь открыла свой сборник пьес. Она начала поддержку суннитских оппозиционных групп – наиболее радикальных из них. Вдохновитель и энтузиаст подобного подхода, принц Бандар бин Султан ушел в отставку в апреле, якобы разочарованный бездеятельностью Обамы. Тем не менее, поддержка джихадистов продолжилась. Нынешний прорыв ISIS выглядит именно такого рода тактическим сюрпризом, о котором принц Бандар мог только и мечтать – хотя доказательств подобному сценарию нет.
Северный Ирак погрузился в быстротечную битву. В ней есть много переменных. Для Вашингтона, выбор – не предпринимать ничего должен быть сбалансирован заботой о судьбе 20 тысяч американских граждан, находящихся в Ираке. Катар – региональный оппортунист, постарается подразнить своего соперника – КСА, но так, чтобы не вывести из себя регионального медведя – Иран. Отпечатков пальцев Катара пока не видно. Шейх Тамим только что отпраздновал первую годовщину своего правления – после отречения родителя – шейха Хамада. Тамим воздерживался от интриг, которые были столь характерны для политики его отца. Возможно, он не станет лезть и иракское пекло, чтобы не вызвать гнев Ирана. Но, только что предоставив убежище в Дохе пяти лидерам Талибана, Тамим ясно дал понять, по какую сторону суниитско-шиитского разлом он стоит.
Существует потенциально важный исторический прецедент к нынешней поддержке КСА ISIS, и одновременному нежеланию его чрезмерного продвижения, которое может начать угрожать королевству. В 20-х годах религиозные фанатики Ихван – после того, как помогли Ибн Сауду завоевать Аравию, начали угрожать британским протекторатам в Ираке и Трансиордании. Ибн Сауд, отец нынешнего саудовского короля, дал британцам карт бланш на уничтожение Ихвана с помощью пулеметов и самолетов, и лично возглавил силы, добившие Ихван – в битве при Сабилла в 1929.
Сегодня трудно себе вообразить настолько аккуратное окончание хаоса, в который погружается долина Евфрата. На этом этапе прямая конфронтация между иранскими и саудовскими силами представляется маловероятной – несмотря на возможное участие корпуса стражей исламской революции в сирийской войне. То что ясно уже сейчас – к сирийской гражданской войне прибавилась иракская гражданская война. у ISIS готово имя для нового государства – Халифат аш-Шам. Вашингтону придется искать свое собственное новое имя для новой территории – и собственную новую политику.
Sorry,Google translation !
Muslim hatred breaks the Middle East: the result of 1400 years of enmity between Shiites and Sunnis … and now threatens to engulf the whole of Iraq, and then the whole world.
Ayatollah Systems: An ancient prophecy comes true: "starts in the Middle East and spread to the whole world
Today Ayatollah Sista said: "according to ancient prophecy recorded in old books, this year will expire in 1400 – year period and start the event according to this prophecy. After 1400 years of enmity between Shiites and Sunnis, this enmity engulf the entire Middle East, and then spread to the whole world and drown it in blood.
If you look at the events in Iraq, we see that the prophecy began to come true. "
In the center of the horrific crisis in Iraq is a centuries-old hatred between the two Muslim ideologies: Sunnis and Shiites.
The deadly power struggle between two rival versions of the same faith, flushed with terrifying force.
At this time, this struggle becomes an unprecedented scale and it watched in awe throughout the Middle East, where the escalation of traditional Sunni / Shia conflict threatens governments and national boundaries.
Ayatollah Systems: An ancient prophecy comes true: "starts in the Middle East and spread to the whole world
Battle for Iraq – Saudi war against Iran.
Bp9D6yrCcAEJsVt.jpg-large
"Be careful what you wish" – this must be the Washington Council of Saudi Arabia and other Gulf States, supporting jihadists in their war against the regime of Bashar al-Assad in Damascus. This warning sounds more relevant than ever today, when the bloodthirsty rebels ISIS rapidly advance through the north-western Iraq, displacing hundreds of thousands of their fellow Sunni and Shiite creating panic in the center around Baghdad, whose population knows that the mercy of ISIS should not wait – if the motorized column jihadists are stopped.
Such a failure of Nouri al-Maliki was the sweetest dream of King Abdullah of Saudi Arabia. Maliki to him – nothing more than an Iranian puppet. Abdullah refused to send an ambassador to Baghdad. Instead, he incites his colleagues at the club despotisms Cooperation Council countries of the Gulf (GCC) – take a similar position deadlock. All these countries are vulnerable to attacks al-Qaeda, but looking through his fingers at the way their citizens are funding radical groups like Al-Nusra Dzhabhat in Syria.
Abdullah is on vacation in Morocco. He still does not show in connection with the Iraq crisis. Perhaps a vacation will be interrupted. There is no doubt that the 90-year-old monarch realized – after his failed policy in Syria due to resist organized by Iran, developments in Iraq give him another chance.
That prospect breaks many predictions and embarrassed many predictors. In recent weeks, the press was filled with reports of the beginning – albeit reluctantly – GCC rapprochement with Iran. Evidence for this was the visit of the Emir of Kuwait to Tehran, Tehran and visit several trade delegations GCC. And was the opposite trend – KSA first publicly demonstrated the Chinese ballistic missiles that could reach Iran and the UAE have introduced conscription.
Advantage if the term can be employed in this context, the slaughter in Iraq is that it brings clarity. There is certainly a rival warring tribes and nations, but the dominant strain is created tensions between Sunni (majority) and Shia (minority) Islam. This phenomenon is typical for the region, has been reduced to absurdity ISIS, which, in addition to other, considering their actions in Iraq against Maliki and as a blow to Assad.
ISIS – a ruthless killing machine put their contempt for the Sunni Shiites to its logical and bloody extreme. Saudi monarch, unlike his fellow crowned, very careful, and do not allow direct religious insults., But his hatred of the Shiites emerged in comments published wikileaks: "chop off head of the snake (theocratic regime in Tehran)."
Despite attempts by many, including in Washington, write it from the account, King Abdullah gripped in life. Not later than June 4, he met with Sheikh Mohammed bin Zayad, Crown Prince of Abu Dhabi. Brother Muhammad recently suffered a stroke, and is now the de facto ruler Mohammed UAE. Nobody knows what they talked about, and Abdullah bin Zayad. Presumably – on elections in Egypt and the triumph of General Sisi. Sisi seen in Riyadh and Abu Dhabi as a "stabilizing force." Currently Abdullah Zayad and Sisi – three main leader of the Arab world. The further fate of Arab States depends on these three leaders.
For those who are confused by sections in the Arab world and finds that the phrase "the enemy of my enemy is my friend" is of limited value, it is worth recalling that in rough Sunni / Shiite section coincides with the boundaries of the Arab and Persian worlds. In geopolitical terms, Iraq – link – with the Shiite majority, which in origin is the Arabs. There is another and totally confusing all dimension, which historically is the linchpin of Saudi policy – support for Islamic radicals abroad and their containment in the Kingdom. Hence – the support of bin Laden while he fought in Afghanistan, the jihadists in Chechnya, Bosnia and Syria.
<iframe width="640″ height="360″ src="http://www.liveleak.com/ll_embed?f=938b6a1a0dfe" frameborder="0″ allowfullscreen></iframe>
When the 2011 revolt against Assad began – together with growing concern in Riyadh in connection with Iran's nuclear program – Saudi intelligence reopened his playbook. She began supporting Sunni opposition groups – the most radical of them. Inspirer and enthusiast of this approach, Prince Bandar bin Sultan resigned in April, allegedly disappointed Obama inactivity. Nevertheless, support for jihadists continued. The current mess ISIS looks exactly the kind of tactical surprise, which Prince Bandar could only dream of – though no evidence of such a scenario.
Northern Iraq plunged into fleeting battle. It has a lot of variables. For Washington, the choice – to do nothing is to be balanced by concern for the fate of the 20,000 American citizens in Iraq. Qatar – regional opportunist try to tease his opponent – KSA, but so as not to ruffle the regional bear – Iran. Fingerprint Qatar has not yet seen. Sheikh Tamim just celebrated the first anniversary of his reign – after the abdication of parents – Sheikh Hamad. Tamim abstained from the intrigues that were so characteristic of the policy of his father. Perhaps he will not climb and the Iraqi hell, not to incur the wrath of Iran. But just providing shelter in Doha five leaders of the Taliban, Tamim has made it clear on which side suniitsko-Shiite rift he stands.
There is a potentially important historical precedent to support the current CSA ISIS, and simultaneous unwillingness of its excessive promotion, which may threaten to kingdom. In the 20-ies of religious fanatics Ikhwan – after Ibn Saud helped conquer Arabia, began to threaten the British protectorate in Iraq and Transjordan. Ibn Saud, father of the current Saudi king, the British gave carte blanche to the destruction of the Ikhwan using machine guns and airplanes, and personally led forces dobivshie Ikhwan – at the Battle of Sabilla in 1929.
Today it is difficult to imagine such a neat ending chaos that plunges the Euphrates valley. At this stage, direct confrontation between Iranian and Saudi forces seems unlikely – despite the possible involvement of the Islamic Revolutionary Guards Corps in the Syrian war. What is already clear – to the Syrian civil war was added the Iraqi civil war. ISIS have ready the name for the new state – the Caliphate Al-Sham. Washington will have to find their own new name for the new territory – and its own new policy.