Под Изюмом харьковские партизаны захватили грузовик с американскими ПТУРами
В Изюмском районе харьковские партизаны провели точечную операцию, атаковав колонну снабжения войск киевской хунты.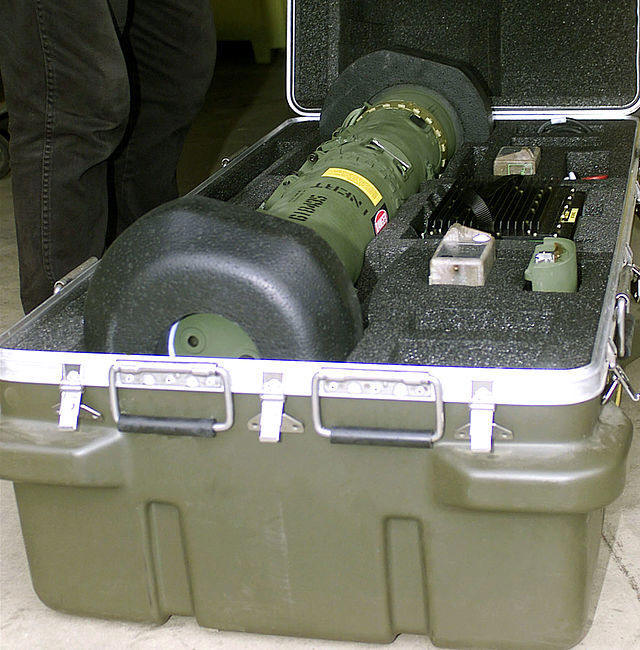 В Изюмском районе Харьковской Народной республики, временно оккупированной войсками киевской хунты уничтожена колонна снабжения, которая везла боеприпасы для дислоццированной в городе Изюм 1-й отдельной танковой бригады, передислоцированной туда из Черниговской области. Четыре грузовика с боеприпасами взлетели на воздух. Пятый же грузовик оказался заполнен не танковыми снарядами, а американскими ПТУР FGM-148 Джавелин (Javelin).
Ракета комплекса Javelin оснащена инфракрасной головкой самонаведения, и действует по принципу «выстрелил-забыл». Ракета выполнена с раскрывающимися крыльями по классической аэродинамической схеме. Она способна атаковать цели напрямую и сверху, что в сочетании с мощной тандемной кумулятивной БЧ позволяет без особого труда поражать все современные танки. Система мягкого пуска позволяет стрелять из закрытых помещений. 

FGM-148 Javelin: Калибр ракеты — 127 мм. БЧ тандемная кумулятивная. Бронепробиваемость за динамической защитой — 700 мм. Система наведения ракеты — самонаведение при помощи ИК ГСН. Длина ПТУР, мм: 1081. Длина ПТУР в ТПК, мм: 1198. Масса блока наведения, кг: 6.36. Масса ПТУР, кг: 11.80. Масса ПТУР в ТПК, кг: 15.90. Масса боевой части, кг: 8.44. Масса комплекса боевая, кг: 22.25. Дальность стрельбы, м: 50-2500. Максимальная скорость ПТУР, м/с: 290.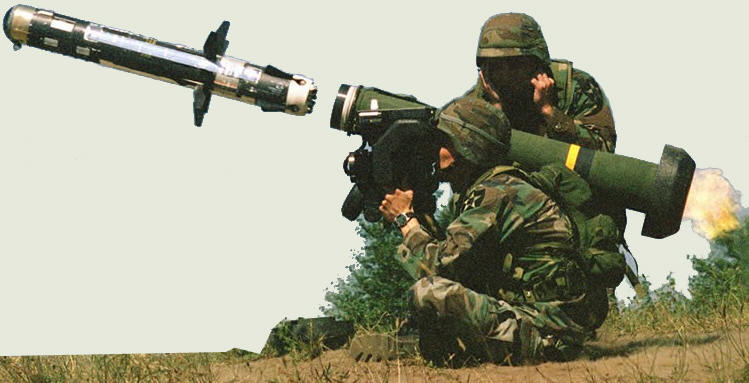 Уничтожение цели достигается совместным действием короткой кумулятивной струи большого диаметра, проламывающей преграду перед целью, и действием пороховых газов от основного заряда ВВ и маршевого двигателя. Подобный способ действия позволяет эффективно применять низкоскоростной боеприпас против лёгкобронированной техники. Так, обычный кумулятивный боеприпас просто проделает небольшое отверстие в броне БТРа или БМП, причиняя вред лишь одной струёй, Джавелин же уничтожит экипаж широкой волной газов избыточного давления) и живой силы, но против лобовой брони современных танков малоэффективен.
Скорее всего, Джавелины были привезены в Харьков американскими военно-тренспортными самолётами, которые зачастили туда в последние несколько ночей.
                                                                Google translation !
In Izium near Kharkov partisans carried out targeted operations, attacked a convoy of supply troops Kiev junta.
In Izium near Kharkov People's Republic of temporarily occupied Kiev junta troops destroyed supply column, which was carrying ammunition for dislotstsirovannoy Raisin in the 1st Tank Brigade, to relocate there from Chernihiv region. Four truckloads of ammunition blew up. The fifth truck turned out to be not filled with tank shells and American ATGM FGM-148 Javelin (Javelin).
Javelin missile complex is equipped with an infrared homing head, and operates on the principle of "fire and forget". The rocket is made with spread wings on the classical aerodynamic configuration. It is capable of attacking targets directly from above, which, combined with a powerful tandem HEAT warhead allows easily affect all modern tanks. The soft-start system allows to shoot from indoors.
FGM-148 Javelin: Caliber missiles – 127 mm. Warhead tandem hollow. Armor penetration behind ERA – 700 mm. Missile guidance systems – by means of infrared homing seeker. ATGM length, mm: 1081 Length ATGM TPK, mm: 1198 Weight of guidance, kg: 6.36. Weight ATGM kg: 11.80. Weight ATGM TPK kg: 15.90. Warhead weight, kg: 8.44. Mass of the battle, kg: 22.25. Range, m: 50-2500. Maximum speed ATGM, m / s: 290.
Destruction of targets achieved by the combined action short of a cumulative jet large diameter breach the barrier in front of goal, and the action of the powder gases from the main explosive charge and the main engine. Such a mode of action allows using low-speed ammunition against lёgkobronirovannoy technology. Thus, the normal cumulative ammunition just to do a little hole in the armor of BTR or BMP, harming only one jet, Javelin same crew destroy a broad wave gas gauge) and manpower, but against the frontal armor of modern tanks ineffective.
Most likely, javelina were brought in Kharkiv American military aircraft trensportnymi who frequent there in the past few nights.