Марин Дажо посвятил жизнь демонстрации людям сверхспособностей. Он выступал на медицинских конгрессах, в присутствии множества докторов, врачей и журналистов, которые фиксировали показания его организма. Острые спицы и кинжалы проходили сквозь его органы сердце, лёгкие и селезёнку, иногда через несколько органов одновременно без крови. Он говорил что предметы просто дематериализуются внутри его, поэтому не наносят вред. Время от времени лезвия посыпались ядом или вонзались преднамеренно заржавевшие. В одном выступлении в Цюрихе, чтобы доказать публике, что это не обман, Дажо пронзили тремя полыми 8-миллиметровыми трубками, через которые подавалась вода.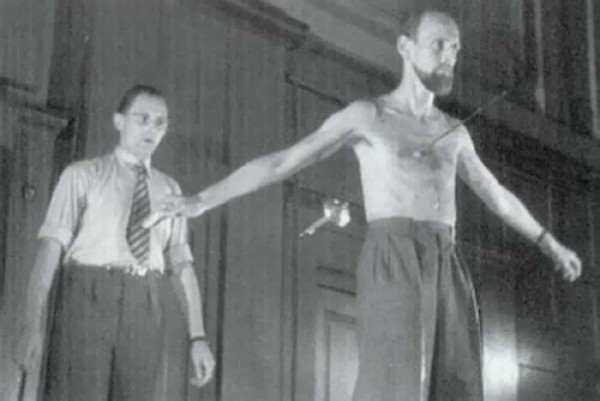 Его ассистент отмечал телепатические и целителькие способности Дажо, лечение людей происходило в присутствии врачей. На его выступлениях зрители часто падали в обморок от увиденного. Во время одного из выступлений у особенно впечатлительной зрительницы случился сердечный приступ. 31 мая 1947 года он продемонстрировал свои таланты в Цюрихском кантональном госпитале в присутствии комиссии. Там же были сделаны рентгеновские снимки, показывающие пронзённые шпагой внутренние органы. После изъятия шпаги кровь отсутствовала, а на теле остались лишь маленькие пятнышки. Подобные исследования были проведены также в Базеле и Берне.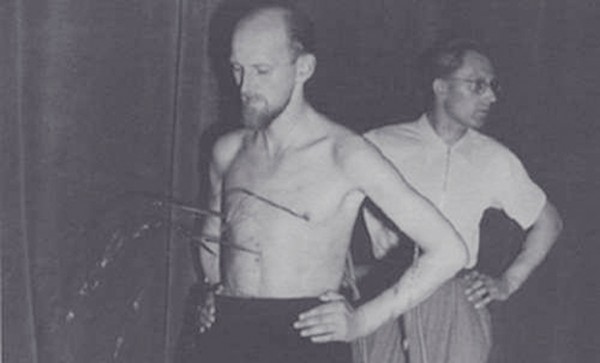 Для Мирина Дажо его выступления не были целью получения славы или богатства, он хотел показать миру, что есть нечто большее, чем реальность, и человек может существовать вне материального мира. Люди должны понять, что существует высшая сила, источник, Бог, который даёт эти способности, как ясный знак того, что существует нечто большее за пределами материалистической картины мира. Он утверждал, что доносит послание мира, а материалистический путь человека может привести к нищете и войне.
Sorry,Google translation !
Marin

Dazho

devoted his life to

demonstrate

to people

super-powers

.

He has spoken at

medical congresses

,

in

the presence of many

doctors

, doctors

and journalists who

recorded

the testimony

of his body.

Sharp

needles

and daggers

passed through

his organs

heart, lungs and

spleen,

sometimes

through several

bodies

at the same time

without blood.

He

said

that

just

dematerialize

objects

inside

it, so

no

harm

.

From time to time

the blade

fell

poison

or

stabbed

deliberately

rusted

.

In a

speech

in Zurich

in order to prove

to the public that

it's not cheating

,

Dazho

pierced

three

8mm

hollow

tubes

through which

water is

supplied

.

1

His assistant noted telepathic abilities and tselitelkie Dazho treatment of people occurred in the presence of doctors. At his audience often fainted from what he saw. During one of the performances in particularly impressionable spectators had a heart attack. May 31, 1947, he demonstrated his talents at the Zurich cantonal hospital in the presence of the commission. There also have been made ​​by X-rays showing a sword thrust through the internal organs. After removal of blood missing sword and his body were only small specks. Similar studies were also conducted in Basel and Bern.

2

Myrina Dazho for his performances were not to obtain fame or fortune, he wanted to show the world that there is something greater than the reality, and man can exist beyond the material world. People need to understand that there is a higher power source, the God who gives these abilities as a clear sign that there is something more beyond the materialistic world view. He argued that conveys a message of peace and materialistic way of man can lead to poverty and war.