Украинские СМИ признались что прячут стрелявший БУК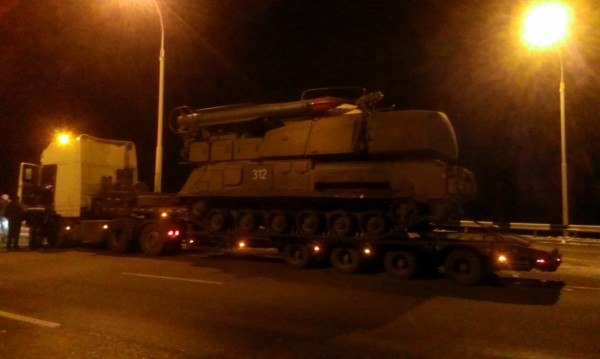 Как всегда, хотели обмазать грязью Россию, но вымазались сами, спешат так, что ляпы уже даже не проверяют, побольше лжи, а там трава не расти.
Собственно речь о вчерашней статье из Цензора. «После крушения «Boeing-777″ террористы вывезли с Украины в Россию как минимум три зенитно-ракетных комплекса «Бук М1″.  
Позволю себе процитировать:
«….СБУ предоставила журналистам фото, сделанное на пути следования пусковой установки из города Снежное (Донецкая область) в направлении российской границы….»
Статья сопровождается целым Фотоколлажем, обращаю внимание на первое фото.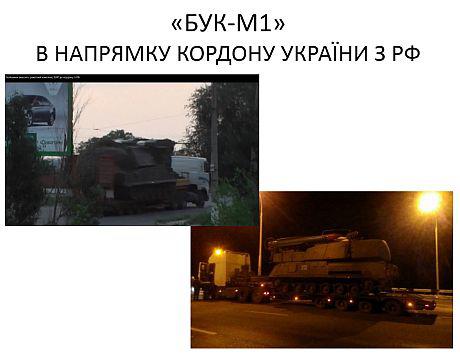 Какая то хрень едет непонятно где и непонятно куда. Тем не менее это не мешает украинским военным уверенно заявить, что БУК с одной отсутствующей ракетой удирает в сторону России. Вот видео целиком.
https://
Только незадача том, что прекрасно просматриваеhttps://тся банер, с которого легко определить местоположение, что и было сделано.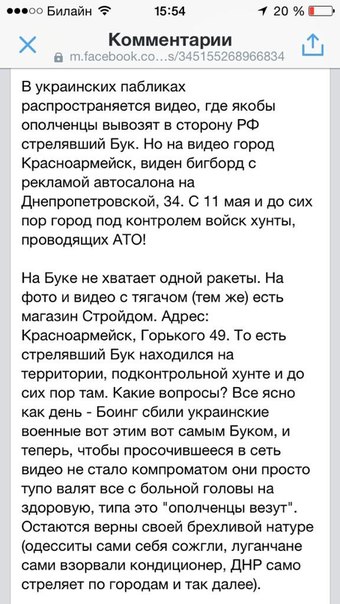 Вторая фотография, где также отсутствует одна ракета, смотрим номер на БУКе — 312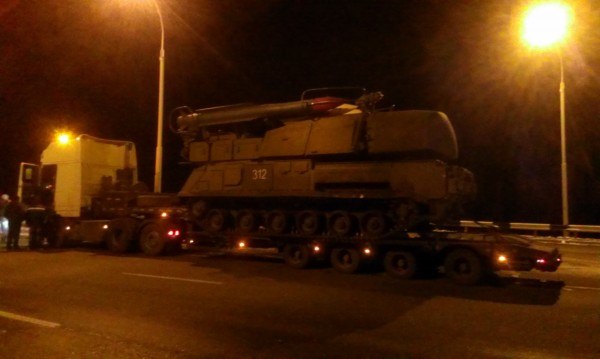 А теперь смотрим вот это видео, внимательно на 37 секунде и на номер.
https://
Опять 312, для тех кто плохо видит, есть фото этой колонны, которая еще в марте производила ротацию около Горловки и разумеется принадлежит украинской армии. К слову, ополченцев тогда даже еще не было.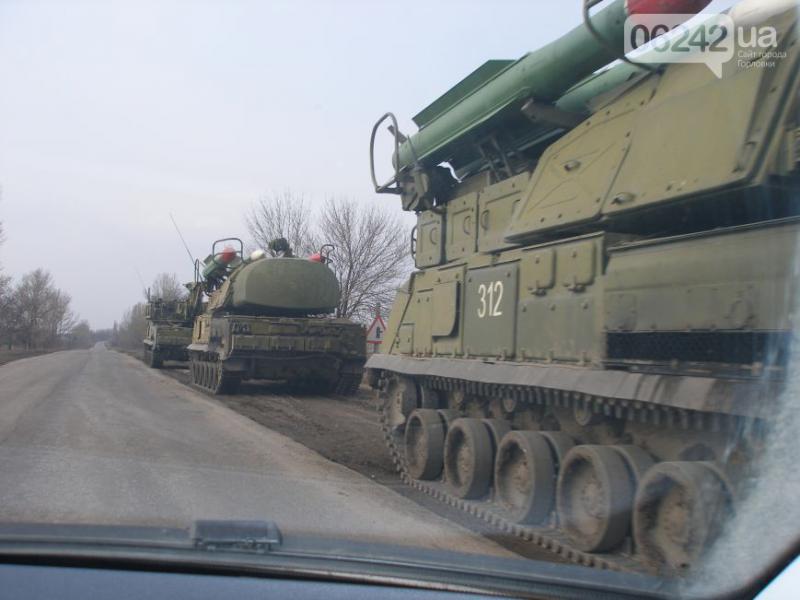 Что скажет юный бандеровец Кертиз или вечно сомневающийся Маршал? Это ведь не какое-то не журналистское заказное расследование или сказки блогеров, а переданные журналистам фотографии СБУ, поданые как ФАКТ!!!
Из этих видео следует прямо противоположное, что нам говорит Цензор с подачи СБУ, это не Россия прячет концы, а сами украинцы.
Sorry, Google translation !
As always, wanted to smear mud Russia, but smeared themselves in a hurry so that mistakes have not even checked, more lies, and where grass does not grow.
Actually talking about yesterday's article of the Censor. "After the collapse« Boeing-777 "terrorists taken from Ukraine to Russia at least three anti-aircraft missile systems" Buk M1 ".
Let me quote:
"…. SBU gave reporters a photo from the path of the launcher from Snowy (Donetsk region) in the direction of the Russian border …."
Article is accompanied by a photo collage, draw attention to the first photo.
Ukrainian media that confessed gunman hiding БУК М-1
What is not clear where the crap is going and it is unclear where. Nevertheless, this does not prevent the Ukrainian military confidently say that  one БУК М-1 missing missile scuttles towards Russia. Here is the entire video.
Just bad luck that perfectly visible banner, with which it is easy to locate, and that was done.
The second picture, which is also missing one missile, looking room on the beech – 312
And now look at this video carefully for 37 seconds and at the room.
312 Again, for those who do not see well, there are photos of this column, which in March is rotated about Gorlovki and of course belongs to the Ukrainian army. By the way, even if the militia was not.
What will the young banderovets Curtiz or forever doubting Marshal? This is not a not a journalistic investigation ordered or tales of bloggers and journalists sent photos of the SBU, filed as a FACT!
Of these videos should be the exact opposite of what we said to Censor feed SBU is not Russia hides the ends, and the Ukrainians themselves.