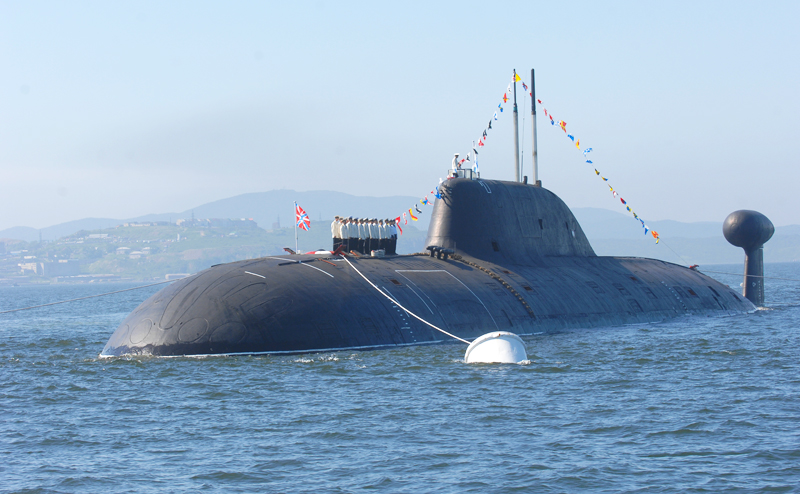 Russia is stepping up naval grouping, which is sent to the Syrian coast. For aircraft carrying a group of the Northern Fleet led by the cruiser "Admiral Kuznetsov" joined three submarines, allegedly armed with cruise missiles. On Sunday, October 30 reported The Sunday Times, citing sources in the British Navy.
According to the newspaper, there are two nuclear submarines of Project 971 "Pike-B" and a diesel-electric submarine Project 877 "Halibut". Last week, the British Navy gave them passage to the Mediterranean. The interlocutors of the newspaper believe that the submarine can be equipped with cruise missiles "Caliber" to attack targets in Syria.
Earlier, NATO Secretary General Jens Stoltenberg said that the alliance is concerned about the campaign aircraft carrier group in the eastern Mediterranean. According to him, the ships can be used for attacks on Aleppo. The Russian Foreign Ministry retorted no reason to worry, as the Russian ships have always been present in the Mediterranean.
Yet NATO hysteria is gaining momentum. Alliance is trying as much as possible, to prevent the Mediterranean campaign.
The route and the problem of ship categories, according to him, are "sealed envelopes marked" Top Secret "," President's Press Secretary Dmitry Peskov. However, as the Spanish Foreign Ministry said earlier on 28 October the ships were to arrive in the Spanish port of Ceuta (an enclave in North Africa). The corresponding resolution, celebrated in Madrid, was issued in September. However, when the news hit the press, on Spain hit a barrage of criticism on the part of NATO allies.
Stoltenberg said that in other circumstances he would not have had against the refueling of Russian ships, but it is now extremely concerned that "they can be used for attacks on Aleppo." Similar statements were made by politicians and military from the UK and the US. As a result, the Spanish Foreign Ministry announced that "reviewing the decision on the results of the consultations."
In the European Union to conduct …