Американец Ал Билек прожил два года в 2749 году.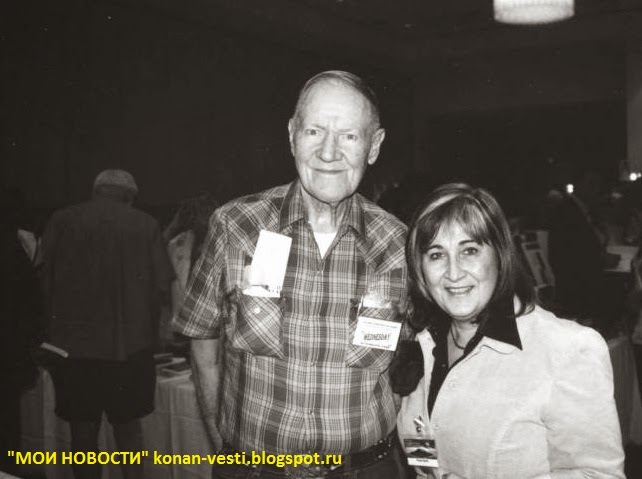 Участник знаменитого "Филадельфийского эксперимента" Ал Билек рассказал о своём путешествии в будущее: по его словам, около шести недель он прожил в 2137 году и целых два года – в 2749-ом.
Свои слова он подтверждает описанием событий, совершающихся прямо сейчас. Согласно воспоминаниям Билека о будущем, вскоре в мире воцарится Новый Мировой Порядок и мы ощутим катастрофические последствия изменения климата. И это далеко не всё.
Проект Монток – это серия засекреченных экспериментов американского правительства, которые проводились в местечке Camp Hero, недалеко от города Монток (шт. Нью-Йорк). Целью проекта было создание психологического оружия, а также исследование свойств сверхсильных электромагнитных полей для перемещения во времени, телепортации и ментального создания объектов.
Билек рассказывает, что он принимал участие в Филадельфийском эксперименте. 13 августа 1943 года он находился на борту морского эсминца DE 173, который таинственным образом исчез в этот день.
По словам Билека, он очнулся в госпитале, рядом со своим братом Дунканом Камероном, где провёл шесть недель, восстанавливаясь от радиационного поражения, которое он получил во время эксперимента.
Медики будущего использовали для его лечения вибрационное и световое оборудование.
По телевидению всё время крутили новости и образовательные передачи.
Там он заметил, что из-за глобальных изменений климата на планете произошло большое количество географических перемен, которые начались до 2025 года.
Береговые линии и очертания США и Европы  разительно отличались от того, что мы видим сейчас. Уровень моря поднялся, и от Флориды почти ничего не осталось. Атланта (шт. Джорджия) оказалась почти на побережье океана. Миссисипи превратилась во внутренний водный путь. Великие озера стали одним большим озером. Инфраструктура США оказалась разрушена. Таких наций как "американцы" и "канадцы" больше не существовало.
В 2137 году действовало некое подобие локального военного положения.
Центрального правительства не существовало.
Магнитные полюса Земли начали смещаться, но к тому времени была создана структура искусственного полюса, которая позволяла предотвратить катастрофу и препятствовала значительному смещению магнитных полюсов.
Население земли сократилось до 300 миллионов. Население США составляло примерно 50 миллионов.
Билек утверждает, что с 1954 по 2000 год американское правительство работало с оказавшимися в их распоряжении инопланетными технологиями.
Проблемы начались в период между 2003-2005 годами. Новый Мировой Порядок постепенно прибирал к рукам всю планету, но осуществлению этих планов помешала война. В какой-то момент война вспыхнула между Россией/Китаем vs США/Европой. Многие американские города оказались разрушены. Новый Мировой Порядок потерпел крах.
Правительство уже в наши дни обладает технологиями, позволяющими за считанные дни значительно снизить уровень радиации и обезвредить ядерные отходы, но отказывается к ним прибегать по политическим соображениям. В будущем эти технологии будут использованы для устранения радиационных последствий  Третьей мировой войны.
После этого Билек таким же необъяснимым образом очутился в 2749 году, где пробыл почти два года. Затем он возвратился в 2013 год, где опять встретился со своим братом Дунканом, после чего они оба вернулись в 1983 год.
В 2749 году Билек увидел грунтовые опоры и плавающие города. Эти города могли передвигаться по всему океану.
Управление осуществляла Компьютерная система с искусственным интеллектом. Никакого правительства не было вообще. Вместо него существовала гигантская кристаллическая плавающая структура, с которой можно было общаться телепатически.
Структура общества была совершенно социалистической. Каждый человек обеспечивался базовыми необходимыми для жизни благами.
         Sorry,Google translation !                              !
Member of the famous "Philadelphia Experiment" Al Bielek told about his trip to the future: according to him, about six weeks he lived in 2137 and for two years – in 2749th.
He confirms his words describing the events occurring right now.
According to the recollections Bilek about the future, the world will soon reign the New World Order, and we will feel the devastating effects of climate change.
And that's not all.
Montauk Project – a series of secret U.S. government experiments, which were carried out in the town of Camp Hero, near the town of Montauk (piece of New York). The aim of the project was to create a psychological weapon, as well as investigation of the properties of superstrong electromagnetic fields for time travel, teleportation and mental objects are created.
Bilek says he participated in the Philadelphia Experiment. August 13, 1943 he was on board a ship destroyer DE 173, which mysteriously disappeared in the day.
According to Bilek, he woke up in the hospital, next to his brother Duncan Cameron, where he spent six weeks recovering from radiation injury, which he received during the experiment.
Future doctors used to treat it vibrating and lighting equipment.
On television all the time spinning news and educational programs.
There he noticed that because of global climate change on the planet was a large number of geographical changes that began before 2025.
Shorelines, and outlines the U.S. and Europe were strikingly different from what we see now. Sea level has risen, and from Florida almost nothing left. Atlanta (Georgia) was almost on the ocean. Mississippi turned into an inland waterway. The Great Lakes have become one big lake. U.S. infrastructure was destroyed. Nations such as "Americans" and "Canadians" no longer existed.
In 2137 acted some semblance of local martial law.
Central government did not exist.
Earth's magnetic poles began to shift, but by the time the structure was created artificial poles that prevent disaster and prevented a considerable shift of the magnetic poles.
The world's population was reduced to 300 million. The U.S. population was about 50 million.
Bielek claims that from 1954 to 2000 worked with the U.S. government was in their possession alien technology.
The problems began in the period between 2003-2005 years. The New World Order is gradually hogging the entire planet, but those plans interrupted by the war. At some point, war broke out between Russia / China vs USA / Europe. Many American cities have been destroyed. New World Order crashed.
Government in our time has the technology to a few days to reduce the level of radiation and neutralize nuclear waste, but refuses to resort to them for political reasons. In the future, these technologies will be used to eliminate the radiological consequences of World War III.
Thereafter Bilek same inexplicably found himself in 2749, where he stayed for almost two years. Then he went back to 2013, where he again met his brother Duncan, and then they both went back to 1983.
In 2749 Bilek saw ground support and floating cities. These cities are able to move around the ocean.
Management carried out computer system with artificial intelligence. No government at all. Instead there was a giant floating crystal structure, which could communicate telepathically.
The structure was completely socialist society. Everyone provides basic goods necessary for life.