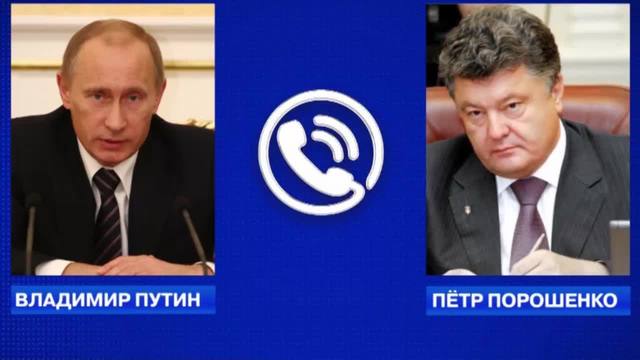 The main theme of the day – talking on the phone Russian President Vladimir Putin and the head of Ukraine Petro Poroshenko. The Russian side – soothes, Ukrainian – hysteria.
According to the Kremlin press service, last night at the initiative of the Ukrainian side a telephone conversation between Vladimir Putin and Peter Poroshenko. It clarifies the "Interfax", discussed issues of bilateral relations and the situation in the south-eastern Ukraine.
Initially, this morning in the Ukrainian media were shocking message – about the details of the conversation. Ostensibly it was held in the presence of the Ambassador of Russia to Ukraine Mikhail Zurabov and approximate Poroshenko. As Ukrainian media, after some time left Zurabov Bankova and Poroshenko, returning to the faction, spoke about the requirements of the Kremlin. "He said that Putin had a conversation in a raised voice, demanding immediate, within 48 hours of the official recognition of the DNI and LC, as well as the legislative failure to join NATO and the EU", – says Ukrainian portal. Otherwise, the president of Russia allegedly promised to start a full-scale offensive, no longer hiding affiliation troops.
Meanwhile, the Kremlin denied these reports. "With regard to a number of media messages about the alleged contents of the conversation – some threats, they are fiction and do not correspond to reality," – said the president's press secretary Dmitry Peskov. His words are quoted by "Interfax".
Andrew Varkentin