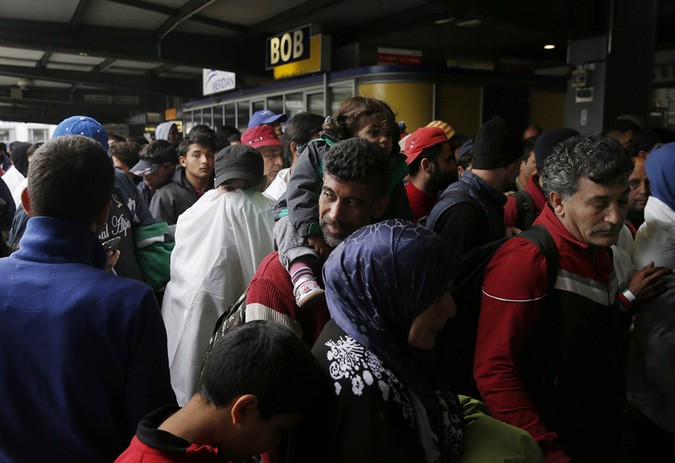 Lebanese minister says that in Europe under the guise of refugees infiltrated more than 20 thousand militants "Islamic state." They intend to move the fighting into the EU.
Lebanese Education Minister Elias Bou Saab (Elias Bou Saab) stated that among the 1.1 million refugees who have flooded Europe, tens of thousands of fighters hiding group "Islamic State" (banned in Russia). According to him, about one fiftieth refugee is a member of a terrorist organization. This Lebanese warned British Prime Minister David Cameron during his visit to Lebanon.
Saab recognized that specific data on the number of terrorists among the refugees did not have, but the "gut feeling" tells him that this is what happens. It is concerned that the Islamists used the desperate situation of the refugees for their own purposes.
"The sixth sense tells us that LIH conducting an operation to penetrate into Europe and other regions. We assume (the refugees" – approx. Ed.), Only two percent of the radicals. But this is more than enough – said Saab, reports The Daily Express.
He noted that refugees in Europe penetrate trained militant groups that even outwardly distinguished from the general flow of migrants. In addition, Islamists recruit fighters among the refugees.
Earlier, Pope Francis also warned that with the flood of refugees to Europe terrorists. In an interview with the Portuguese Radio Renascenca, the pope acknowledged that one of the goals of the Islamists could be Vatican.
In recent months, Europe is faced with a huge influx of illegal immigrants from North Africa and the Middle East. Most of them are fleeing from war and mass terror unleashed by the rebels "Islamic state" in the territories under their control.
The situation threatens to spiral out of control. EU countries argue about who and how much should accept refugees, while those thousands of illegally crossing the border. Experts warn that a migration crisis could turn into a catastrophe and the collapse of Europe. This was stated, inter alia, the Hungarian Prime Minister Viktor Orban. In Europe were heard talk about the revision of the Schengen Agreement and calls to abandon the free movement of citizens.
To curb the flow of migrants, some countries used troops. Hungary is building a wall on the border with Serbia. Denmark at the time to stop rail link with Germany. In Germany itself, clashes between opponents of mass migration and anti-fascists. The radicals set fire to shelters for refugees.
Against this background, more often heard the warnings about the penetration of terrorist groups on the territory of European states. British counterintelligence summer warned that the militants "Islamic state" are preparing for a major terrorist attack in Europe, including the use of bombs quadrocopters. Intelligence agencies claim that the leaders of the IG obsessed major terrorist attack that would have rivaled the attacks of 11 September 2001 at the Twin Towers in New York City.
http://www.ridus.ru/news/197392
Published on 09/15/2015 at 15:46